Text Banking
Don't have a smartphone? Don't worry. If you can text, you can manage your account on the go. Make quick balance inquires, view account history and transfer funds.
Register Your Device
You will need to register your mobile device by logging into One Source Online Banking. Go to "Settings," click on "Mobile Settings," then "Web Mobile Settings" and enter the information requested.
Text Commands
Bal = All Account Balances
Bal Mobile Short Name = Single Account Balance
Hist = All Accounts Recent Activity
Hist Mobile Short Name = Single Account Activity
Help = Commands
Stop = Cancel
Loan Payment Text Notifications
Everyone with a loan and a cell phone number will start receiving the following text message to enroll 15 days before their next loan due date.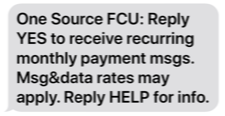 If the member does not reply, they will not be opted in.
If the member replies "YES" they will be opted in for this service and will receive the following message: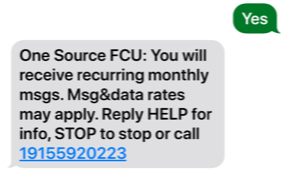 Members will then receive the following payment reminders:
15 days before payment due
10 days before payment due (10 day reminder, starts after opt-in)
3 days before payment due
3 days after payment due
Example of reminder text:
To cancel, the member just needs to reply with "STOP"
For more information reply "Help"
If a member has opted out and now wants to opt-in, have the member text 325-76 with keyword "onesourcefcu" (no spaces).
Message and data rates may apply. Text STOP to 89549 to cancel. Text HELP to 89549 or call 800-532-0223 for more information. One message per request. Not all carriers are supported for this service.