TurboTax Program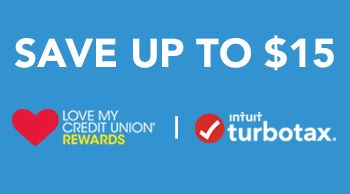 You don't need to be a tax expert to get your taxes done right.
The Love My Credit Union Rewards TurboTax program offers credit union members great discounts on TurboTax products. Start for FREE today!
Expert review of your return With TurboTax Live, do your taxes with live CPA or EA advice on demand and a one-on-one review of your return before you file.*
Get a head start on your taxes Snap a photo of your W-2, or import it into TurboTax from over 1 million companies. Either way, you'll save time and get a jump start on your taxes.
Searches over 350 deductions TurboTax finds every deduction and credit you qualify for so you don't miss a thing.
*TurboTax product guarantees and other important information. ©2019 Intuit Inc. All rights reserved. State filing charges apply. Limited time offer for TurboTax 2019. Terms, conditions, features, availability, pricing, fees, service and support options subject to change without notice. Intuit, TurboTax and TurboTax Online, among others, are registered trademarks and/or service marks of Intuit Inc. in the United States and other countries. Other parties' trademarks or service marks are the property of their respective owners.