Back
Friday, April 30th, 2021
Las Cruces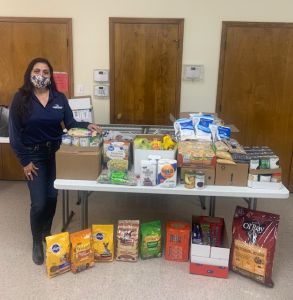 Employees at One Source along with our friends at the LCAR Community Service Committee held a food and pet drive the month of April to support Casa de Peregrinos, a local non-profit organization in Las Cruces.
We not only collected canned goods but non-perishable items, along with dog and cat food for our adorable four-legged friends!
Casa de Peregrinos Food Program: Food for TODAY! Hope for TOMORROW!
The mission of Casa de Peregrinos is to alleviate hunger in our community through the acquisition and distribution of nutritious food. As part of that mission, we also commit ourselves to promoting public awareness of hunger in Doña Ana County and to securing broad-based support for hunger prevention and relief in the county.
Click on the link above to see how you can help. THANK YOU One Source family!