Skip-a-Pay Anytime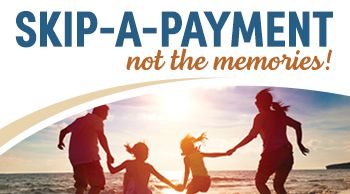 Skip-a-Pay Anytime During the Year!
Do you need a little help to get your finances in order for those graduations or summer family get-aways that are just around the corner? Let One Source be YOUR source for all of your family needs!
For only $25 per loan, skip your loan payment(s) anytime during the year* and enjoy that much needed break.
Whether you're looking for some extra cash to pay for those unexpected bills, or you need some time to catch up, sign up TODAY!
*Accounts may only participate in one Skip-a-Pay per calendar year.
Click on the attachment, sign the form return it to any branch, or mail it to: One Source FCU Attn: Skip-Pay 8870 Gazelle Dr. El Paso, TX 79925.
Loans eligible for Skip-a-Pay: loans must be current, opened longer than 90 days and account must be in good standing. Loans NOT eligible for Skip-a-Pay: Mechanics Lien, Home Improvement loans, Mortgages, FHA Home Improvement, CD Secured loans and RLOC (revolving line of credit loans). Be advised that your loan term will be extended as a result of the Skip-a-Pay and that interest will continue to accrue.