Skip-a-Pay Anytime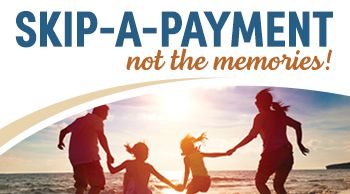 Skip-a-Pay Anytime During the Year!
You no longer have to wait until July or December to skip your loan payment!
For only $25 per loan, skip your loan payment(s) anytime during the year* and enjoy that much needed break.
Whether you're looking for some extra cash to pay for those unexpected bills, or you just want to have some fun, sign up TODAY!
*Accounts may only participate in one Skip-a-Pay per calendar year.
Click on the attachment, sign the form return it to any branch, or mail it to: One Source FCU Attn: Skip-Pay 8870 Gazelle Dr. El Paso, TX 79925.
If you have been financially impacted by the coronavirus, please do not hesitate to call us, we are here for you! Since every situation is different we will look at several options to assist you. One option could be to skip your loan payment. If that is feasible then we will waive the $25 skip-a-pay fee. Call today at 915-592-0223 or 1-80-532-0223 for more information.
Loans eligible for Skip-a-Pay: loans must be current, opened longer than 90 days and account must be in good standing. Loans NOT eligible for Skip-a-Pay: Mechanics Lien, Home Improvement loans, Mortgages, FHA Home Improvement, CD Secured loans and RLOC (revolving line of credit loans). Be advised that your loan term will be extended as a result of the Skip-a-Pay and that interest will continue to accrue.