Back
Monday, February 14th, 2022
EPFH Food Bank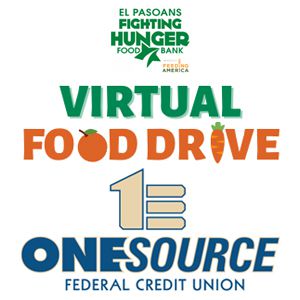 Another 14,000 meals will be distributed to those in need in our Community thanks to you, our members and employees.
On February 8, 2021 we presented another check in the amount of $2,000 to Sonya Saunders and Kathy Cox from the El Pasoans Fighting Hunger Food Bank, with more to come in 2022!
One Source is PROUD to be a Community Partner with the Food Bank. We can't thank them enough for all that they do each and every day for those in need in the very community we all live in. God bless them all.
Let's help our friends at the Food Bank with a donation TODAY! CLICK HERE to help those in need.