SPRING into SUMMER with a BETTER AUTO LOAN Rate!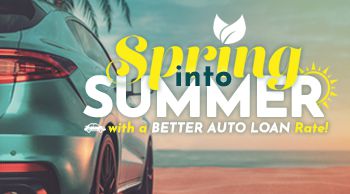 Finance or Refinance your vehicle with One Source, your SOURCE for all of your Auto Buying needs!
APPLY for a NEW or USED auto at One Source, or REFINANCE your vehicle at One Source TODAY! Why? Because we have some of the BEST auto loan rates in town, that's why!
That's right, we are very COMPETITIVE regarding our Auto Loan Rates, so give us a try!
What are you waiting for? APPLY online TODAY and once approved make NO payments for 90 days*!
Call us TODAY at (915) 592-0223 or 1 (800) 532-0223 and speak to any of our friendly loan officers for more details.
Member Discounts on your next Auto Loan!
Once approved for that vehicle you've been dreaming about and you select Credit Life and/or Credit Disability we'll give you a .25% rate discount and we'll extend your loan term for 6 months, to help you even more with an affordable loan payment and help protect you and your family from life's unexpected events.
Additionally, we will also offer more protection for life's unexpected turns with another .25% rate discount when you select both VSA and GAP and we'll add an additional 6 months to your loan term, again helping you, our member with not only an even more affordable loan payment but protecting your vehicle from unexpected and costly repairs.
Call us TODAY at (915) 592-0223 and speak to any of our loan officers for more details. Our APPLY online TODAY!
*Certain restrictions apply. Offer based on approved credit. Refinanced vehicle loan minimum amount- $10,000. Refinancing does not apply to existing OSFCU auto loans. Interest continues to accrue on 90 days no payment. Not all paper types qualify for the 90 days no payment. See credit union for details.
Associated Product: Auto Loans