Vacation Staycation Loans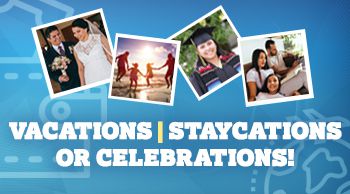 Ready to start your Vacation or Staycation get-away but you find yourself a little short on cash?
Let One Source be YOUR vacation source TODAY! Whether it's to a far-away place -OR- a staycation close to home.
Not going anywhere but you still find yourself a little short on cash for lets say a graduation party, or a wedding? We can help with that too!
For EVERY Milestone, We Are Here!
Once approved make NO payments for 90 days*! So ENJOY the Summer on US!
Great Rates! Terrific Terms! The Best Staff in Town!
APPLY TODAY or contact us 915-592-0223 or 1-800-532-0223 if you have any questions.
Don't forget about your Member Discount!
Once approved for your Vacation | Staycation personal loan and you choose life and/or disability insurance, we will give you a .25% discount and extend your loan term for 6 months, to help you with a low loan payment and help protect you and your family from lives unexpected events.
*Certain restrictions apply. Offer based on approved credit. Minimum amount- $1,000. Maximum amount- $5,000. Interest continues to accrue on 90 days no payment, for certain paper types. See credit union for details.
Associated Product: Personal Loans