Sprint Rewards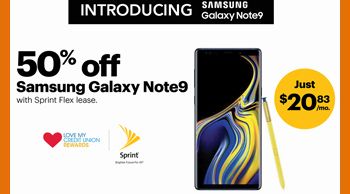 Get 50% Off a NEW Samsung Galaxy Note9
The latest Samsung device is here! For a limited time, you can score the super powerful new Samsung Galaxy Note9 at 50% off with Sprint Flex lease. Plus, $100 into your credit union account for each new line!
$100 Cash Reward for Every New Line You Switch to Sprint
This exclusive cash rewards offer is the best one EVER! Now, as a One Source FCU member, you can earn $100 for every line when you switch to Sprint®.
Here's how it works:
$100 Cash Reward for each new line activated, up to 3 lines*

Current Sprint customers receive a $50 Cash Reward for lines transferred into the program, up to 3 lines*
$50 Loyalty Cash Reward every year for each line activated or transferred, up to 3 lines*

Offer also includes the BEST Unlimited Plan with Hulu, and 25% off eligible accessories in Sprint stores

*3 lines total, includes all activated and transferred lines
Here's how to sign up for Sprint cash rewards:
Become a Sprint customer.
Register at LoveMyCreditUnion.org/SprintRewards or in the Love My Credit Union Rewards® app.
Allow up to six to eight weeks to see cash rewards directly deposited into your credit union account.
Make the switch today and save with the Sprint Credit Union Member Cash Rewards!