Fall In Love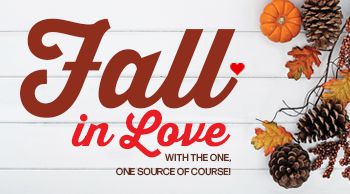 Fall in Love with your Credit Union TODAY!
Start Fresh for FALL and let us help Finance your dream car -OR- Refinance that high car payment.
What to expect when financing a car at One Source:
Step 1: Apply for an auto loan by clicking the APPLY button below.
Input your personal information and loan details. The application takes about 5 minutes to complete.
Step 2: A loan officer will call you to go over your loan application and request any necessary documents needed. Common examples could include a purchase order, paycheck stubs, income taxes, 14-day payoff from current lender, and retirement award letters.
Step 3: Schedule a 15 min call with our loan officers to go over the loan terms, learn about our valuable products and services, look for any member discounts, and set a convenient due date for your loan payments.
Step 4: Receive your loan documents via DocuSign, review all terms and conditions, and sign all documents. Make sure to save a copy of your loan documents for your convenience. Alternatively, you can call us at 915-592-0223 to schedule an in-branch closing, currently by appointment only.
Or maybe you're ready to Purchase your FOREVER HOME!
Come to THE source for all of your home buying needs! Whether you're a First Time Home Buyer or Refinancing your Existing Home, One Source is here to get you on your way!
Benefits of Home Ownership
Stability—It's rewarding to have a place to settle down in and call your own.
Tax deduction—You usually can deduct mortgage interest on your tax return.
Appreciation—Over time, the value of a home generally increases.
Increase in net worth—Mortgage payments help you build equity.
Borrowing power—Equity built up over time may help you qualify for future loans.
One Source Federal Credit Union offers:
Conventional & Government Loans FHA, VA & More
Zero or Low Down Payment Programs
Competitive Rates & Closing Costs
First-Time Home Buyer Program
Flexible Credit Programs
Either way, One Source is Here For You when it comes to all of your Auto and Home loan needs!
Don't forget about our Closing Cost Assistance Program*! We'll help pay up to $4,000!
Stop by any of our LOCATIONS or Call TODAY 915-592-0223 | 1-800-532-0223!
Why? Because we're One Source, of course!
Dream Car: Apply Now
Forever Home: Apply NOW!
*Certain restrictions apply. Offer based on approved credit. See credit union for details.
*One Source Federal Credit Union's Closing Cost Assistance Program is not sponsored by or affiliated with any government agency. Closing Cost Assistance up to $4,000 in select closing costs, prepaids and reserves does not cover mortgage insurance, seller paid closing costs or discount points. This program is available to eligible borrowers using a Conventional mortgage program on a purchase transaction with One Source Federal Credit Union only. Minimum loan amount to qualify is $100,000. Maximum loan amount is $250,000. Closing Cost Assistance amount will not be applied until the time of closing on the appropriate closing documents. Closing costs may vary based on transaction. All loans subject to approval. This promotion may not be combined with any other offer, promotion, or discount. See credit union for details. One Source FCU NMLS ID:1505224
Associated Product: Loan Application