Gateway West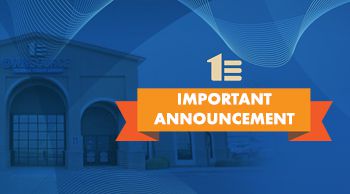 Your One Source Federal Credit Union Board of Directors and Management are focused on providing our membership with the best Credit Union Experience that we can offer. This includes the convenience of providing mobile banking, online banking, and our digital wallet for you to be able to access your accounts 24/7. As more members are using these electronic and digital services, we have re-evaluated our current branches. We need smaller and more efficient branches throughout El Paso and Las Cruces.
Therefore, we have decided to close our Gateway Branch (11501 Gateway Blvd. West, El Paso, Tx. 79936) on Friday, July 7, 2023.
Our other three locations will remain open. In El Paso, we have two other branches (8870 Gazelle Drive, El Paso, Tx. 79925 and 5730 Cromo Drive, El Paso, Tx. 79912). In Las Cruces, we have one branch (1375 E. Boutz, Las Cruces, N.M. 88001). You will still be able to visit any of these three locations for in-person service.
Our 11501 Gateway Blvd West location has a much larger footprint than we need in today's digital world. It is not being occupied to its fullest making it inefficient and has poor accessibility. We are evaluating different locations which will better serve our members, which are more conveniently located, have easier access and are more efficient.
Within the next 60 days, if you have not yet done so, please familiarize yourself with our other locations. Our CU Anytime ATM machines are still available, along with ATMs from other financial institutions via the Shared Branching network.
The future of One Source Federal Credit Union looks bright, so we hope as a loyal member, you will continue to stand by us and enjoy the ride to our next big endeavor. In case we do not say this enough, thank you for your continued loyalty and dedication to making One Source your source for all of your banking needs.
If you have any questions or concerns, please do not hesitate to give us a call at 915-592-0223 or 1-800-532-0223. Check back here on our website for updates as they become readily available.
Thank you,
One Source Management Team and Board of Directors