MMP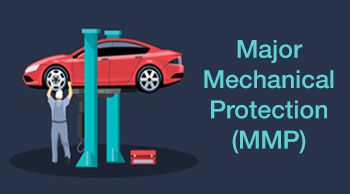 Make the Most Out of Your Vehicle Investment
Whether you plan on selling your vehicle after a few years or plan on driving it for many years to come, you may find yourself eventually dealing with a repair or breakdown. And with the rising cost of labor and parts, you could find yourself dealing with high out-of-pocket expenses.
With Major Mechanical Protection (MMP), you can protect yourself from costly repairs and enjoy your vehicle longer. The total cost of MMP is often far less than the cost of a single repair! Pay for this protection once, and in most cases you will not have to pay anything more than a small deductible should a breakdown occur.
Your coverage may include all or some of the following benefits*:
Comprehensive repair coverage
24-hour roadside assistance
Lost key and lockout assistance
Emergency tire repair
Rental car reimbursement
Trip interruption expense reimbursement
Flexibility when getting repairs done — can be used at most licensed repair facilities
MMP transfers to a new owner, which adds to the resale value of your vehicle
*coverages vary
Protect yourself for the road ahead— to learn more about MMP, call any of our loan officers today!
915-592-0223 or 1800-532-0223
Associated Product: Auto Loans