Coming Soon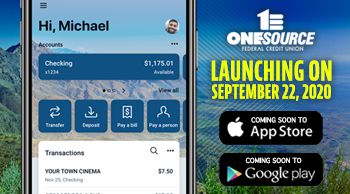 UPDATE: Tomorrow afternoon we are LIVE with our new Online Banking and Mobile App!
IMPORTANT PLEASE READ: We are converting our system tomorrow morning. That means tomorrow morning you will not have access to our current Online Banking login or our current Mobile App. We apologize for any inconvenience this may cause. Thank you for your patience during this conversion process.
Check back here or our social media platforms for updates.
NEW and Improved Mobile App and Online Banking!
On September 22, 2020, OSFCU will be transitioning to a NEW Digital Banking Suite to include our NEW Digital Wallet! This transition will result in a new and improved user experience with a consistent look and feel across all your devices, including your desktop computer and mobile app.
In addition to an improved user experience, the new platform employs enhanced security that leverages industry standard 2-Step Verification. While our current security features for Online and Mobile Banking provide protection for unauthorized access to your account, 2-Step Verification will significantly improve the security of these applications by adding a verification step to the sign in process.
As always, thank you for your membership at One Source. We look forward to sharing more information about these exciting changes soon!
Updates on Online Banking and Mobile App Dashboards!
When you access your accounts through Online Banking or the Mobile App starting September 22nd, you may notice a few changes, including an updated look!
The Navigation Menu for web browser access is switching from the top of the page to the left side for a more consistent experience with the Mobile App.
On the Mobile App, members with more than 4 shares/loans will see four accounts at a time. Members with 20 or more shares/loans will see totals by account type (e.g. deposit, borrowed, etc.).
Chat with One Source FCU Member Support from Anywhere with Conversations!
Get LIVE Member Support When you Need It! Once our NEW Mobile App and Online Banking go LIVE September 22, 2020 one cool feature we know you'll love is the fact that you can get LIVE member support from One Source, of course, no matter where you are. That's because your account will have a useful NEW chat feature — it's called Conversations.
Here's how it works: If you see a transaction that doesn't seem right, just click on the "Ask Us About This Transaction" button. Type in your question and Conversations will connect you directly with our support staff.
They can see exactly which transaction you're asking about, so you get answers fast. You can even ask about a previous Conversation if you need to follow up. That way, you can put your mind at ease — without a phone call or trip to the credit union.
It's safe, it's secure, and you can chat with a real person.
Best of all, Conversations will already be built into your account. You'll be able to access it on your phone, tablet, or computer!
We are counting down the days until our LAUNCH DATE! Check back here for more insight and capabilities of our NEW Digital Banking Suite through a series of messages on our website, emails, Facebook page, Instagram and Twitter.
Online Banking Puts Your Account at Your Fingertips!
As part of our continued commitment to the health and safety of our members, employees and our community during the current coronavirus (COVID-19) outbreak, we want to remind you that OSFCU's NEW Online Banking and Mobile App will allow you to safely and securely manage your accounts from home with that same Dashboard look.
Review your balances and recent transactions
Make immediate loan payments and transfers between your accounts
Transfer to another OSFCU member or transfer to your account at another financial institution
Schedule future loan payments, transfers and bill payments
Deposit checks from the Mobile App
Review your electronic statements and notices (or, reduce your incoming mail by enrolling today!)
Apply for loans and open new share accounts
Use the Forms portal to initiate domestic wire transfers, home or mailing address changes, name changes and more
Additionally, you can ask questions and initiate most account maintenance by starting a Conversation from within Online Banking and the Mobile App 24/7. Our team will respond by the end of the following business day.
If you need assistance by phone, do not hesitate to call 915-592-0223 or 1-800-532-0223:
Monday - Thursday: 8:30 am – 5:30 pm
Friday: 8:30 am – 6:00 pm
Saturday: 9:00 am – 12:00 pm
Associated Product: Online Banking