Holiday Loans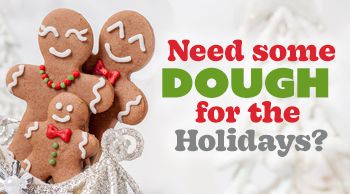 Need some Dough for the Holidays?
The holidays are fast approaching so you are ready? If not, let One Source be YOUR holiday source to help you get everything you need starting with Thanksgiving! Apply for your Holiday Loan TODAY and make NO payments*until 2022!
We'll even help you open up a Christmas Club account for next year! We'll help you set up your direct deposit so that next year you probably won't be needing a Holiday loan! You'll have the money you need next Christmas because you saved for it!
One Source wants to help all of our members be Money Smart not just for the Holidays but all year round. Call TODAY 915-592-0223 and we'll get you on your WAY!
Holiday loan details:
Minimum amount - $500
Maximum amount - $5,000
Make NO payments for 90 days*
Loan term - up to 36 months
Now through December 31st
*Certain restrictions apply. Offer based on approved credit. Interest continues to accrue on 90 days no payment. See credit union for details. Federally Insured by NCUA.
Member Discounts on Personal loans!
Once approved for your Holiday loan and you choose life and/or disability insurance, we will give you a .25% rate discount and extend your loan term for 6 months, to help you with an even lower loan payment and help protect you and your family from life's unexpected events.
Call TODAY 915-592-0223 or 1-800-532-0223 or APPLY online!
One Source FCU, where banking is Simple, Mobile, and FREE!
Associated Product: Personal Loans