Holiday Loans 2019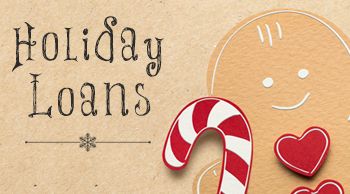 Need Some Dough for the Holidays?
MEMBER REWARDS! OUR GIFT TO YOU THIS HOLIDAY SEASON!
Rates as low as 6.99% APR*

Minimum Loan - $500

Maximum Loan - $2,500

Make NO PAYMENTS for 90 Days!
Apply for your HOLIDAY LOAN TODAY! EXTENDED THROUGH DECEMBER 31st!
*APR is annual percentage rate. Certain restrictions apply. Must be a OSFCU member. Does not apply to existing OSFCU loans. Interest will continue to accrue on 90 days no payment. Term amounts: minimum 6 mths.- maximum 24 mths. Not all paper types qualify for this promotion or the 90 days no payment. See credit union for details. Federally Insured by NCUA.
Associated Product: Personal Loans